Georgian MFA requests clarification
By Ana Robakidze
Tuesday, February 17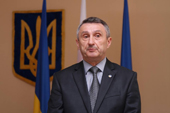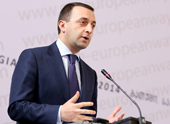 Ukrainian ambassador to Georgia Vasyl Tsybenko was summoned to the ministry of Foreign Affairs of Georgia to give explanations on various issues including the appointment of the former Georgian President Mikheil Saakashvili as an adviser for Ukrainian President Petro Poroshenko.
According to Poroshenko's decree, Saakashvili became his non-staff adviser and as Chairman of Ukraine's Advisory International Council of Reforms. The news resulted in a negative response from the Georgian side, as Saakashvili is on the prosecutor's wanted list for multiple charges he was charged with in absentia.
"Ukraine is an independent sovereign country, with the right to make any decision it deems to be necessary, after all it is our internal business," Tsybenko told the media after his meeting at the MFA. He said Poroshenko considered the experience Saakashvili has in reforms, military modernization, and attracting foreign investment, and the decision made by the Ukraine was never meant to be against Georgia or to be turned into an obstacle in the relationship between the two countries.
According to the ambassador, the meeting was held in a constructive manner and covered various topics related to Georgia-Ukrainian relations. Tsybenko confirmed that Georgina Prime Minister Irakli Gharibashvili has not changed his plans to visit Ukraine and the foreign ministries of both states are currently working to prepare the meeting.
Spokesperson for the MFA Davit Kereselidze confirmed that Gharibashvili's visit in Ukraine will take place soon, but the parties still need to decide on the exact dates.
Speaking at the press conference, Kereselidze said Saakashvili's new position in the Ukrainian government was a surprise to officials in Tbilisi. However, it will not cause any changes in the strategic partnership between the states.
"Let's not cause a stir out of it… Ukraine is our strategic partner, which is an important country with which we have and will have friendly relations, Ukraine is in very difficult situation and supporting Ukraine is the primary issue and nothing will obstruct this partnership and good neighborly relations," Kereselidze said.