Georgian wines recognized at international wine competition
Tuesday, February 17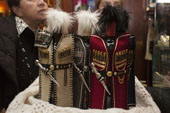 Georgian wines have trumped more than 2,000 wines and been recognized with top honors at the Sakura 2015 international wine competition in Japan.
The Guruli Chkhaveri 2012 wine, produced by Lukasi wine company, was awarded the Double Gold award and the Mtsvane Kisi (Kondoli) 2013 wine, produced by Telavi Wine Cellar, received the Silver award at the second annual Japanese women's wine competition.
Founder of Georgia's Lukasi wine company Keti Gersamia said this success had brought new challenges to the company. She said several large-scale restaurant and shop networks in Germany, Belgium, Austria and Russia expressed their interest towards the company's wine and the negotiations had begun with them.
Sakura 2015 was a three-day event held earlier this month and a total of 2,904 wines participated in the competition. The jury consisted of 340 female wine specialists.
(Agenda.ge)