Government concerned by Saakashvili's new post in Ukraine
By Messenger Staff
Tuesday, February 17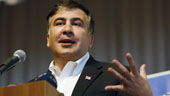 Georgia's former President Mikheil Saakashvili, who is wanted by Georgian law-enforcement, has been appointed as the head of a newly established International Advisory Council on Reforms, Ukraine's President Petro Poroshenko announced on February 13.
The fact has concerned the current Georgian government. They have summoned the Ukrainian ambassador for an explanation. Georgia's pro-western forces advise the government to refrain from straining relations with the country that is at war with Russia and is referred to as a strategic partner of Georgia.
"We've been thinking for a long time how to use the knowledge, experience and unique know-how of Mikheil Saakashvili in the best possible way. In Georgia, he managed to implement reforms in all spheres of economic, political and social life," Poroshenko said.
"Until recently, Mikheil was in fact a freelance consultant of Ukraine in reforms and now, at last, he gets the official status," the Ukrainian President said.
Several Georgians have already taken high posts in Ukraine. However, Saakashvili's appointment has caused much irritation among the Georgian government. It is well-known that the Georgian Dream officials disregard the reforms of the previous head of the country and his team.
Georgia's former Prime Minister Bidzina Ivanishvili has warned Ukraine that Saakashvili and former Justice Minister Zurab Adeishvili's advice might be fatal for them.
He reminded the Ukrainian leaders that unlike Saakashvili, Adeishvili is on the most-wanted list of Interpol.
The opposition United National Movement has evaluated Saakashvili's appointment as a profitable step for Ukraine.
They have criticized the Georgian Dream authorities for summoning Ukraine's ambassador to the Foreign Ministry. UNM members stress that the Ukraine's fight is Georgia's fight and Saakashvili's contacts and experience will provide benefits for both countries' interests.
"The current government acts based on its narrow political interests. They do their best to please Russia," the UNM members state.
Head of the opposition Free Democrats Irakli Alasania believes that Saakashvili's new task in Ukraine should not hinder the two countries relations.
"If the Georgian Dream government's relations deteriorate with Ukraine because of the Georgians appointed there, the approach will be negatively viewed in the West. Some suspicions may emerge with regard to the current Georgian government's foreign orientation. Therefore, if the Georgians in Ukraine undertake successful reforms there, the fact will positively impact on the UNM rating in Georgia," Alasania states.