European leaders take part in March of Dignity in Kyiv
By Ana Robakidze
Monday, February 23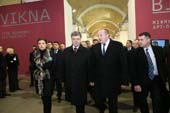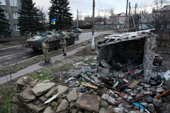 Georgia President Giorgi Margvelashvili arrived in Kiev on February 22 to participate in the March of Honor together with other world leaders.
The march was held in the center of Kiev to remember and commemorate the victims of clashes between Maidan activists and police a year ago.
Family members, injured Maidan activists, church representatives, European high-ranking officials, the Ukrainian President and representatives from various international organizations took part in the march, which started on Institunskaya Street and finished with a prayer service on Independence Square (Maidan).
Meanwhile the rebels in eastern Ukraine and the central government have agreed to start pulling back heavy weapons from the frontline, as it was determined by the Minsk deal of February 12. However, the parties says it will not be completed until March 8, which is five days later than the deadline set in Minsk.
Though the parties have been very slow and selective about the areas to fulfill the Minsk agreement, they have been successful in the exchange of prisoners and managed to handover of 139 Ukrainian soldiers and 52 separatists.
The U.S., which did not participate in the Minsk deal but carefully follows the fulfillment of the agreement, says that Russia and rebels do not want the agreement to work in the key areas.
"So far, Russia and the separatists are only complying in a few areas – not in Debaltseve, not outside Mariupol and not in other key strategic areas… That is simply unacceptable. If this failure continues, make no mistake, there will be further consequences, including consequences that would place added strains on Russia's already troubled economy," US Secretary of State John Kerry told reporters in London after meeting his British counterpart Philip Hammond.
According to international observers, artillery fire can still be heard in Debaltseve, the strategic area which was taken over by the rebels a few days after the ceasefire was agreed to in Minsk. The Ukrainian government fears the port city of Mariupol may become the next target for the rebels. Mariupol is another strategically important city with half million people and close to Crimea.