World Bank allocates $50m USD for Georgia's agriculture sector
Monday, February 23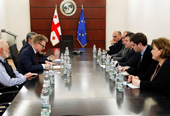 The World Bank is going to implement a project worth $50 million USD ($107 million GEL) to develop Georgia's agricultural sector.
Georgia's Agriculture Minister Otar Danelia announced the new initiative after meeting Peter Goodman, World Bank representative in Europe and Central Asia region.
The multi-million dollar 'Irrigation and Land Market Development Project in Georgia' involved two main components: rehabilitation of irrigation systems and land market development.
Danelia said rehabilitation works in Lower Samgori, Upper Rusi and Tbilisi Kumisi irrigation systems were planned within the first stage of the project.
He said practical works would be started in the near future. In two years' time, all three irrigation systems would be "almost completely rehabilitated", he said.
For these works, the World Bank has allocated $31 million (67 million GEL).
The remaining funds would go towards other aspects of the project.
(Agenda.ge)