Government stuck between NATO and Russia
By Messenger Staff
Monday, February 23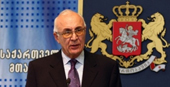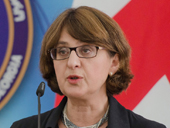 The Prime Minister's special envoy in relations with Russia Zurab Abashidze, said Georgia-NATO relations do not equate to the deployment of NATO infrastructure within the country. His statement caused great controversy among Georgian politicians and the opposition accused the government in leaning away from the western path.
The statement was a bit suspicious especially because it was made right after Georgia received another threat from Moscow, when Russian foreign Minister Sergei Lavrov said his country will to anything to prevent Tbilisi from "being dragged" into NATO.
"Georgia is a sovereign state and has the right to cooperate with any international organization, including NATO. However, this cooperation does not entail deploying NATO infrastructure in Georgia," Abashidze said, adding that it is clear for all the interested parties (Tbilisi, Moscow and Brussels) that Georgia will not become a member of the alliance anytime soon.
According to former Foreign Minister Maia Panjikidze, Abashidze cannot be solely responsible for his statement. She believes the issue was discussed at the crisis management council and the envoy made the statement according the council's decision. Panjikidze does not believe that the MFA has participated in the decision making process about NATO infrastructure.
"Setting up a NATO military base in Georgia it not on the agenda," Minister of Defense Mindia Janelidze said after the cabinet meeting on February 19. He confirmed that only a training center will be built in Georgia, as was determined in the NATO-Georgian substantial package. The center will help to increase the professionalism of the Georgian military and to make it compatible with alliance standards, Janelidze said.
United National Movement and Free Democrats, the largest opposition parties in Georgia, had an immediate negative reaction to Abashidze's statement.
"The statement is one more clear example of the fact the Euro-Atlantic path our country has chosen is under threat," former State Minister in Euro-Atlantic integration Alexi Petriashvili said. According to Petriashvili, who is a member of the Free Democrats as well, the substantial package Georgia received at the Wales Summit indeed is a plan which implies the deployment of NATO infrastructure in Georgia to support the country in its mission to join the alliance.
The Ministry of Foreign Affairs confirmed in the official statement that the state policy has not changed and Georgia will follow all the procedures necessary to join the North-Atlantic Alliance.
It is unclear whether Abashidze or the MFA has revealed the actual policy regarding NATO and which statement Moscow believes.