Abashidze: NATO membership for Georgia not on current agenda
By Ana Robakidze
Wednesday, February 25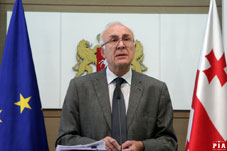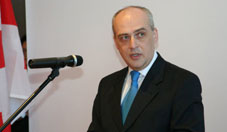 Georgia will not become a NATO member in anytime soon, the Georgian Prime Minister's Special Envoy in Relations with Russia Zurab Abashidze said in his interview with the Russian media outlet RIA Novosti.
"Moscow, Tbilisi and Brussels are well aware that the issue of granting NATO membership to Georgia is not on the agenda. Therefore we should try to remove Russia's emotional attitudes towards this topic," Abashidze said, referring to the fact that Moscow has been very anxious about the NATO training center that is planned for Georgia. The envoy said Russia has nothing to worry about, as the training center will not be a NATO military facility.
In his interview, Abashidze was asked to assess Georgia-Russian relations. The envoy explained that Georgia has good relations with all of its neighbors except Russia, and the Georgian government has been trying hard to repair the situation. He emphasized the importance of the Geneva talks and the Abashidze-Karasin meetings in Prague. Abashidze confirmed that his next meeting with the Russian Deputy Foreign Minister Gregori Karasin will take place in Prague on February 26.
According to Abashidze, Russia supporting direct dialogue between Georgia and its breakaway regions of Abkhazia and South Ossetia will be welcomed. He said in this case it will be possible to postpone discussions on the statuses the parties have in the conflict and focus on solving humanitarian, economic, and healthcare issues.
Abashidze was harshly criticized by the former deputy foreign minister Davit Zalkaniani for his interview. Zalkaniani said the special envoy made a very specious statement on RIA Novosti, and it can be seen as a part of the Russian plan.
"I believe this is a part of a premeditated policy. It is obvious there is a Russian plan to ruin the Geneva talk format." Zalkaninia explained that in the case Georgia starts to discuss humanitarian issues with Russia in an alternative format, as Abashidze spoke in his interview, the second working group of Geneva talks will have to be dismissed. All humanitarian issues in the conflict region are discussed by the second working group within the Geneva talks.