Minister paying tribute to cadets' memory
Thursday, February 26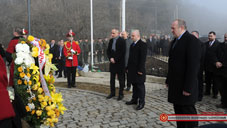 Minister of Defence of Georgia paid respect to the memory of the cadets who fell heroically in the fight for Georgia`s territorial integrity in 1921. Mr. Mindia Janelidze, in company with President Giorgi Margvelashvili and Chief of the General Staff of the GAF Major-General Vakhtang Kapanadze visited the Heroes` Memorial in Kojori-Tabakhmela.
Supreme Commander-in-Chief and Defence Minister laid wreath on the memorial plate and held a minute of silence to honor the memory of the young cadets. In the address to the audience, they spoke of their deeds and remembered once again their history of heroism.
'We`ve honored the memory of the cadets, who fell in the battle for the independence of Georgia and we should always do so. It proves that we live up to our military traditions. We should always remember our history and build our armed forces and our state based on our combat fervor", said Minister.
The representatives of executive and legislative organs of Georgia, GS leading officials, as well as the cadets of Davit Aghmashenebeli National Defence Academy also paid tribute to the remembrance of the dead at the Heroes Memorial.
The military brass band of the Ministry of Defence performed the state anthem and a funeral march.
In 1921, between 17-25 February, several hundreds of cadets died in the battle for Georgia`s territorial integrity near Elguja, Kojori and Tabakhmela. 94 years ago, on this day, the Russian army took over Tbilisi and started the occupation of the Democratic Republic of Georgia.