Basic Mountain Training Winter Course in Gudauri
Thursday, February 26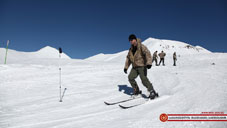 Sachkhere Mountain Training School is hosting international winter course. Within NATO Partnership for Peace (PfP) program, together with the Georgian soldiers, 25 military servicemen from NATO member and partner countries – Lithuania, Latvia, Portuguese, Poland, Armenia, Azerbaijan, Ukraine and Moldavia participate in the course.
Chief of General Staff of the GAF, Major General Vakhtang Kapanadze observed the mountain training in Gudauri. Chief of General Staff talked with the participants and wished them successful training.
The instructors of Sachkhere Mountain Training School teach the participants skiing techniques on the first stage of the basic course. They will exercise in moving, searching and rescue operations. Within the scope of the course, the military will master in the skills of crossing obstacle line by skis and making snow shelter Igloo.
Basic Mountain Training Winter Course in Gudauri started on February 21 and will come to an end on March 13.