Minister of Defence attends service
Thursday, February 26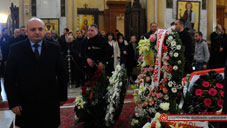 Minister of Defence of Georgia visited the Holy Trinity Cathedral. Mr. Mindia Janelidze attended the memorial service held in remembrance of the Georgian heroes who died during the aircraft crash in the Babushera Airport. Minister condoled to the family members of the dead and pledged them to render support.
The ceremony of mourning was led in attendance of Minister of Internally Displaced Persons from the Occupied Territories, Accommodation and Refugees of Georgia Sozar Subari, civil society members and brothers-in -arm of the dead.
The dead bodies of the hero soldiers Giorgi Chargeishvili, Malkhaz Piranishvili, Zurab Melishiani, Rusudan Chkhetiani and Kakha Abuladze will be buried at the Vashlijvari Brotherhood cemetery beside their brothers-in-arm. The dead bodies of 5 Georgian warriors were identified by the Levan Samkharauli National Forensic Bureau (NFB).