Workshop on "Assessment, Evaluation and Measurement of Efficiency"
Thursday, February 26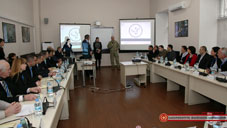 Workshop on "Assessment, Evaluation and Measurement of Efficiency" opened in professional Development Center of Ministry of Defence of Georgia. Lecturers and military instructors of Davit Aghmashenebeli National Defence Academy participate in the seminar.
The workshop aims to retrain NDA academic personnel and get them acquainted with assessment, evaluation and measurement of efficiency. Rector of National Defence Academy, Colonel Irakli Gegechkori opened the seminar.
The representatives of the Defense Education Enhancement Program (DEEP) Andreas Hildenbrand, Robert Antis and Irina Lisichkina lead the workshop. The representatives of National Defence Academy, Major Giorgi Tvauri and main Specialist Tamar Remishvili are among the speakers as well. In 2014, under the decision of DEEP international trainers' team, they are elected as DEEP team members and lead international and local trainings.
Three day seminar is held under the initiative of Professional Development Center and International Relation Division of the National Defence Academy in the framework of action plan between DEEP and NDA.
DEEP is being held under the aegis of Partnership for Peace program and aims to improve military educational field in NATO member and partner countries.