Government struggling to stabilize GEL exchange rate
By Ana Robakidze
Friday, February 27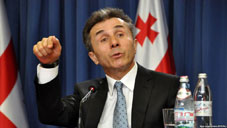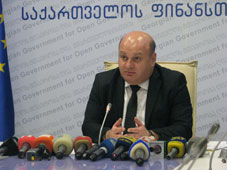 Minister of Finance Nodar Khaduri claims the country is facing only a currency crisis and not economic crisis. Georgia's national currency lari lost around 30% of its value since November 2014, and economic experts have predicted an economic crisis in the country. However, according to the government, economic growth continues, though at a slower pace.
The National Bank of Georgia (NBG) set a new exchange rate for the GEL on February 25 and valued 1 USD at 2.26 GEL. According to the head of the National Bank of Georgia Giorgi Kadagidze, the import rate will eventually decrease due to the currency depreciation.
Kadagidze asked the commercial banks to support their clients who have loans in USD, and have to pay monthly interest rates in USD. Some of the commercial banks promised to extend the loan period for existing customers, so they pay less in interest every month.
In order to meet the demand in foreign currency, the government decided to start privatizing state- owned property. According to preliminary calculations, 300-500 million USD should be raised within 2-3 months.
On February 26, Minister of Economy Giorgi Kvirikashvili had a meeting with the representatives of the International Monetary Fund (IMF).
"We discussed the current situation and the measures the government is trying to carry out in order to balance the currency rate. I can assure you, our measures were approved by the IMF representatives," Kvirikashvili said after the meeting.
Former Prime Minister and billionaire Bidzina Ivanishvili released a special statement on February 26, and said considering all the related factors, the GEL exchange rate against the USD should not exceed 2.00. Ivanishvili says the head of the NBG is responsible for the unstable currency rate.
"In order to avoid changes in the currency rate, other central banks in the region used a large part of their reserve money (Armenia – 34%, Moldova – 30%) and ensured the stability of the national currency. The Georgian National Bank used only 5% (around $120 million USD), these measures could not have been effective," Ivanishvili said in the statement. He believes the NBG is powerful enough with all necessary levers to control a floating currency rate. However, the bank did not follow the procedure. Inactivity, as well as bad decisions made by Kadagidze lead to the currency crisis, the former PM said.