Parliamentary opposition wants Zurab Abashidze to resign
By Ana Robakidze
Tuesday, March 3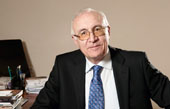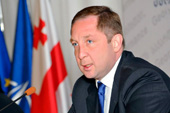 Former State Minister on Euro-Atlantic Integration Alexi Petriashvili says that Zurab Abashidze is hampering Georgia's integration with NATO. Abashidze, who is the Prime Minister's Special Envoy in Relations with Russia, has been criticized for his recent statements about the NATO training center, when Abashidze said that the alliance will not deploy any military facilities in Georgia.
Members of the Free Democrats say the envoy is a very important representative of the government, which itself is not competent enough to run the country. The Free democrats say Abashidze is a subordinate to de-facto leader Bidzina Ivanishvili and advises him to resign.
Abashidze, does not agree with the parliamentary opposition and says his meetings with Deputy Foreign Minister Gregori Karasin has been very successful, and as a result of the last talks held on February 27, Russia will start the implementation of the treaty on monitoring cargo on trade between the two countries. The agreement envisages setting up a system for tracking and auditing cargo passing through the breakaway regions of Abkhazia and South Ossetia.
"This project is far from the other ordinary projects, that's why it was difficult to work on the contract. Changes in our government in 2012 somehow prevented the process from moving forward. The new government team studied the issue for a period of time. They held meetings with representatives of the former government, which had worked on the issue. In general, there was a lot of talk on the subject," Abashidze said, speaking to InterPressNews on March 2.
Commenting on the criticism from the opposition parties, Abashidze said they are not in a position to questions the government's competence. According to the envoy, the foreign policy will not be changed and diplomacy remains the only tool Georgia plans to use with Russia, as the countries have very difficult relations.