UNM plans street rally
By Messenger Staff
Tuesday, March 3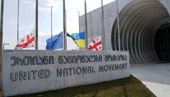 After three failed attempts at calling a special parliamentary session concerning Georgia's economic problems, the opposition United Movement has announced a planned street rally.
According to the UNM, the rally serves the aim of changing the current government and will take place on March 21, on Rustaveli Avenue.
The UNM initially appealed to the president to call a special session concerning the national currency devaluation that has lost 29% of its value against the dollar recently.
However, the president turned down the request, saying that the government should be given time to implement their plan before March 5, following the consultations with the International Monetary Fund representations.
The UNM stressed that the president was being unreasonable.
Since then the opposition has tried two more times to call the session. However, at least 76 MPs are required for such a session, while the majority representatives refused to attend.
Most within the majority have emphasized that the UNM just wanted a platform in order to offend and criticize the current government.
Majority MP Manana Kobakhidze stressed that the opposition's cynicism would not have helped the lari rate.
The opposition has asked all those who believe that the current government are inept, to participate in the rally.
A bit later, UNM member Nugzar Tsiklauri wrote on his Facebook that the rally would also condemn the current state leaders' pro-Russian course.
Commenting on the issue, majority MP Gia Volski stated that the UNM continues its treacherous activity and wishes to put the state's stability at risk.
"If they had a professional vision, they could write them down and present them openly," Volski said.