Davit Usupashvili visits Washington
By Ana Robakidze
Wednesday, March 4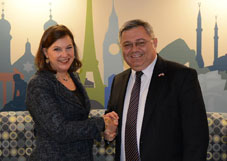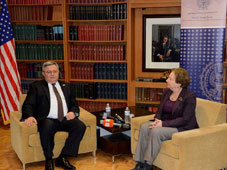 The Speaker of Georgian Parliament, Davit Usupashvili and the Chair of Foreign Relations Committee, Tedo Japaridze are paying an official visit to the U.S
It's been two years since I last visited Washington D.C. I had to come back to demonstrate to our friends what is going on in Georgia. I will have discussions about our domestic policy and regional security," Usupashvili said in Washington. He said Georgia and the U.S cooperate on every issue and the parties have a lot to discuss, including Georgia's partnership with NATO.
Usupashvili held his first meeting with the Assistant to the Secretary of State Victoria Nuland on March 2.
The Parliament Speaker visited Georgetown University on March 3 and spoke about the political and economic situation in Georgia.
"I am here to tell you what is going on in Georgia, where we are at the moment, and what are the challenges and perspectives we have," Usupashvili said in his speech. He spoke about Russia and Georgia's priorities in foreign policy.
Uuspashvili also discussed the recent monetary problems in Georgia and said the problems were caused due to very complex circumstances.
"This is a complex mix of internal and external problems. The government was not ready for such developments. The amount of money transferred from Russia by Georgians living there has decreased. The amount of tourists has dropped by 20%, partially due to factors related to the visa liberalization process with the EU," Usupashvili said.
The Georgian delegation also had meetings with the former World Bank President, the President of Freedom House, the President of the International Peace Fund of the Congress, the Atlantic Council Delegation, the President of the Brookings Institute, and with the National Endowment for Democracy Fund.
In the Atlantic Council, Usupashvili will deliver a public speech and in the National Endowment for Democracy he will participate in a round table. He will also give interviews to the New York Times, Radio Free Europe/Radio Liberty Washington, Foreign Policy, Wall Street Journal, Voice of America, and Georgian Language Service. The visit will conclude on March 6.