France opposes new NATO members
By Ana Robakidze
Thursday, March 5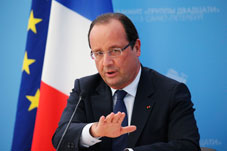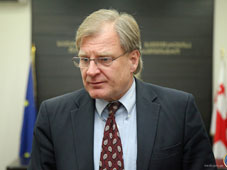 France remains firm on its position that NATO enlargement should be suspended for some time. Speaking after his meeting with the NATO Secretary General Jens Stoltenberg, French President Francois Hollande said that alliance enlargement is off the table right now.
"France's position is to turn-down would-be members. We consider that expanding NATO is not a priority at this time," Hollande said.
U.S Ambassador to Georgia Richard Norland was asked by the Georgian media to comment about the country's chances of joining NATO. The ambassador said there is nothing more Georgia can do at the moment.
"Right now, Georgia is doing everything it can and I think when the time comes, NATO will make the appropriate decision," the U.S. Ambassador said on March 4. Norland refused to comment on the French president's statement, and said Georgia should continue with its reforms to meet the alliance standards.
"I am not going to make specific comments on a statement made by the leader of a NATO country. I would just say I think it is an important thing for Georgia to do everything it can to enhance its qualifications for NATO membership. Georgia is pursuing, I think, a very thoughtful strategy to defend its national security right now," Norland said. He advised the government to focus on strengthening the country's economy and military capabilities.
"NATO is a prevention mechanism where NATO member states protect themselves," Speaker of the Georgian Parliament Dvait Usupashvili said, while speaking at Georgetown University in Washington D.C., where he delivered a speech as a part of his official visit to the US. He said Georgia has no intentions of dragging NATO into a conflict with Russia, but the alliance membership will act as a guarantee for Georgia not to get involved in another war with Russia.
"We have learned lessons from history, and we cannot remember a single case of NATO-Russia or NATO-Soviet Union military confrontation. So NATO is a prevention mechanism where NATO member states protect themselves and Russia or the Soviet Union could not attack them." Usupashvili said.