OSCE Secretary General visits Tbilisi
By Ana Robakidze
Tuesday, March 10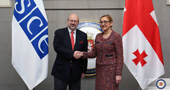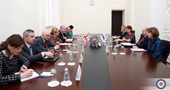 Secretary General of the Organisation for Security and Cooperation in Europe (OSCE) Lamberto Zannier, who arrived in Tbilisi to pay a three-day official visit on March 8, said the OSCE observers mission has to be restored in the country and Russian activities in the breakaway regions of Georgia have to be responded to accordingly. The OSCE had to close its mission in Abkhazia and South Ossetia after the regions were occupied by Russia in 2008.
Zannier held his first meeting with Georgian Foreign Minister Tamar Beruchashvili to discuss OSCE-Georgia relations and the current situation in Georgia's Russian-occupied regions.
The parties paid special attention to the treaties Russia unlawfully signed with Abkhazia and South Ossetia. Beurchashvili emphasized that Russia violated the sovereignty of Georgia and took another step forward with its annexation policy by signing the treaties with Abkhazia and South Ossetia. She asked Zannier and the OSCE to provide proper political and legal assessments on Russia's activities and to put pressure on Moscow.
Speaking at the joint press conference after the meeting, Zannier said that verbal condemnation is not an adequate response to Russia's activity in the Georgian conflict regions. The Secretary General believes Russia creates serious destabilization in the region. Therefore, the conflicts in Georgia have to be solved as soon as possible. The OSCE top official expressed his concern over the ongoing military training of the Russian Air Force in Abkhazia and South Ossetia.
Zannier said that the OSCE is looking into a possible solution and is trying to help the conflict regions with various projects. The OSCE official also spoke about the barbed-wire fences installed by Russian forces along the administrative border between South Ossetia and the rest of Georgia, and said the metal fences prevent people from living normal everyday lives.
The OSCE Secretary General will visit the occupation line and the area inhabited by refugees today.
After the press conference, Zaanieri left for Khurvaleti, a small settlement for IDPs from the war in 2008.
Zannier will end his visit to Georgia on March 11. He will meet with Georgian Prime Minister Irakli Garibashvili, President Giorgi Margvelashvili, as well as with the representatives of the legislative body.