Eco-friendly busses to run in Tbilisi
By Ana Robakidze
Wednesday, March 11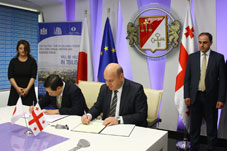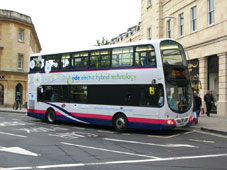 The Japanese government will provide financial aid to Tbilisi municipality for purchasing hybrid electric busses for the city.
The deal was signed by Ambassador of Japan to Georgia Toshio Kaitani and Georgia's Finance Minister Nodar Khaduri on March 10. According the agreement, Tbilisi City Hall will receive 500 million Yen (about $4.2 million USD) to purchase several eco-friendly, hybrid buses and two small electronic cars, to be used by the Ministry of Environment to promote and raise awareness of eco-friendly transport.
"Money will be spent on purchasing Japanese advanced technology and introducing it to Georgia," Khaduri said.
According to the Ministry of Environment, the new generation hybrid buses will operate on routes around central Tbilisi. The Japanese side said the grant was allocated to contribute to improving Georgia's ecological environment.
"Georgia and Japan have very friendly relations and the protection of the environment is a very important task for both countries. We are happy to provide assistance," Kaitani said.
"The project is very important, as it fully complies with the idea of a green city, we are trying to create," Mayor of Tbilisi Davit Narmania said.
This is not the first aid Georgia received from Japan. Over the last 27 years Japan spent around 34 million USD on various projects in Georgia, some of them implemented within the frame of Official Development Assistant (ODA). Japanese grants were mostly spent on developing healthcare, environmental protection and agriculture.