Davit Usupashvili comments on holding extraordinary parliamentary session
By Ana Robakidze
Thursday, March 12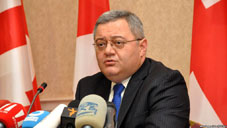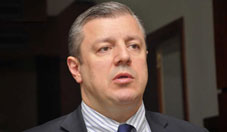 Georgian MPs will gather on March 13 for an extraordinary session called by the President of Georgia Giorgi Margvelashvili to discuss the devaluation of the national currency and the measures used to stabilize it.
The Chairman of the Parliament Davit Usupashvili says his office is ready to organize the session. However, it will be hard to hold proper discussions, as the topic and format has not been identified clearly. Usupashvili believes the session, which was called by the president after her received a request from the parliamentary opposition parties, will not bring any results. Alternatively, it is a chance for the parliamentary minority to create additional harassment around the national currency.
"An extraordinary session is a very important tool and has to be used appropriately. Based on the activities of the parliamentary minority, it is clear they are focused not on an actual discussion of the topic, but on turning the alarm on, to make sure there is an overwhelming amount of debate in the media," Usupashvili said on March 11. He added that the minority had many opportunities to bring forward the national currency as one of the topics discussed at the session, which was going on from February 16-20, or March 2-7.
The parliamentary majority opposed the president's decision from the very beginning, believing that rather than summoning an extraordinary session, it would have been more appropriate to hold a committee hearing instead.
President Giorgi Margvelashvili has convened a special session of parliament to be held on March 13 to discuss measures for stabilizing the national currency, the president's office said on Tuesday.
MPs from the Georgian Dream summoned Minister of Economy Giorgi Kvirikashvili and Minister of Finance Nodar Khaduri for the economic policy committee hearing, which is scheduled to take place on the same day as the extraordinary session on March 13.
The opposition UNM has held a special meeting following Usupashvili's statements. The opposition leader Davit Bakradze said he was sorry to hear such improper assessments from the parliament speaker. Bakradze stressed that the opposition is ready for peaceful and business-oriented talks in parliament that will be focused on defeating current economic crisis.