Increased Foreign Investments in Georgia
Monday, March 16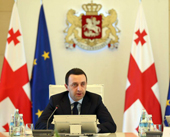 I want to assure everybody that the Government is doing its best to cope with the problems of the country so that current difficult period in the region proceeds as painlessly as possible, - stated the Prime Minister before the beginning of the Session.
The Government Leader responded to the statistical information, according to which, in 2014, the volume of direct foreign investment has increased in Georgia, if compared with 2013.
"It lets us be optimistic, especially given the difficult political and economic situation in the region, which had affected virtually everyone, including Georgia. That is particularly, noteworthy in light of the increasing trend of investments. This means that trust towards our country and our government increases"- said the Prime Minister.
According to his explanation, in 2014, the volume of direct foreign investment was 1,272 billion USD, which is 39% higher than the preliminary data of 2013.
"The three largest sectors have been identified; whose share was 64% in 2014. The most direct foreign investment has been carried out in the spheres of transport and communication, which have made up 343 million USD, 27 % of the total direct foreign investment. The construction is on the second place, with 295 million USD, while the third place comes to the food processing industry - 174 million USD. According to preliminary data, the volume of direct foreign investments carried out in the IV quarter of 2014 in Georgia made up 349 million USD, which is 61% higher than the preliminary results of the IV quarter in 2013, "- said Irakli Garibashvili.
The Government Leader has given the positive evaluation to the past year and spoken about the challenges the country is facing.
"The past year was really positive; the growth is practically, noticeable in every sector. We are in contact with businessmen, who say that the past year was the most successful and the most profitable for them. But, let us face the reality, the whole region is facing. Europe is also experiencing the crisis. We have to provide true information to the population. The majority of television programs try to portray the different reality, "- said the Prime Minister.
In addition, he had received the information about the budget adjustments from the Finance Minister.
(Prime Minister's Press Office)