Georgian government works out lari stabilization plan
Monday, March 16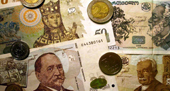 Georgian Minister of Economy and Sustainable Development Giorgi Kvirikashvili presented the government's plan to stabilize the lari exchange rate at a meeting of the Parliamentary Committee of Sector Economics and Economic Policy, News Georgia agency reported March 12.
"We worked out a plan to overcome the currency crisis in the country," Kvirikashvili said.
Kvirikashvili said that the government's plan consists of three parts - the short-term (from March to June 2015), medium-term (until the end of 2015) and long-term (2015 to 2017).
Accelerating the privatization of state facilities; tourism promotion in Georgia; attracting investment; reducing administrative costs; implementation of major infrastructure projects and adopting legislation encouraging business will be the main directions of the government's activity while carrying out its short-term plan.
Georgia's national currency has depreciated since November 20, 2014.
As of the last trading, the rate was set at 2.1850 lari / $ 1.
Until that time, the lari rate remained at the level 1.74 – 1.76 lari / $ 1.
The National Bank started to tighten the monetary policy in February.
(Trend.az)