NATO integration: a Georgian Dream priority or not?
By Messenger Staff
Monday, March 16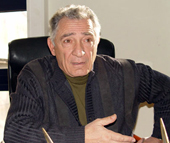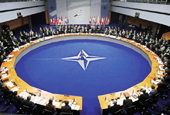 Member of the Georgian Dream Coalition and the leader of Industrials party Gogi Topadze, made a controversial statement last week, when he said that integration with NATO is not a priority for the ruling coalition.
The Georgian Dream Coalition (GD) was created by billionaire Bidzina Ivanishvili in order to win the parliamentary election and replace former President Mikheil Saakashvili's government. Saakashvili's party, the United National Movement (UNM), has always claimed that Ivanishvili is pro-Russian, and that Georgia will be forced to abandon its ambitions of joining the Euro-Atlantic family. According to official statements, the GD plans to join NATO and also plans to improve tense relations with Russia.
The coalition has set a goal which will be difficult to achieve. Russia has been very sensitive about the post-Soviet states with regard to their desire to join NATO and the European Union. Coalition party members have voiced different opinions about Georgia's foreign policy. The Free Democrats, while they were still members of the coalition, were considered to be a guarantee in maintaining a stable western course, while the Industrials party has never been fascinated by Georgia's approach to NATO.
"Different opinions exist within the coalition, but I doubt the DG decides NATO is our path to follow. If it happens to be so, we (The Industrials) will have to either follow the coalition or leave it." Topadze told Versia. The MP is very harsh while criticizing NATO, and says it is an aggressive organization and inadequate.
"NATO cannot protect anyone. If it was capable of protecting Georgia, NATO would have been there for us in 2008 and in many other times we were in need," Topadze said in his interview.
He believes NATO does not plan to accept Georgia as a member, but if Georgia still joins the alliance it will be tragedy for the country. "Our neighbor will never forgive us," Topadze said, adding that Georgia should manage and achieve neutrality and make sure to be independent from both, NATO and Russian influence. In the interview, Topadze revealed that he does not think joining the Eurasian Union is a bad idea, as it can increase export in the country.
Recently, pro-Russian forces have been significantly active in Georgia. They appear in the government as well as in the opposition, leaving many questions open about the stability of the western-oriented foreign policy of Georgia.