MIA to investigate Zugdidi clash
By Ana Robakidze
Tuesday, March 17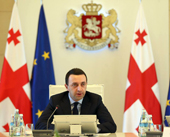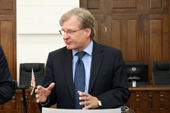 A rally organized by Georgian Dream Coalition supporters turned into a violent clash between the participants and supporters, and members of the United National Movement (UNM) party. Police were present at the scene, but failed to prevent violence. Several people, including one police officer were injured as a result of clashes, on March 15.
The rally was organized to protest against the UNM and its intention to hold demonstration in Tbilisi on March 21. The crowd first gathered outside the UNM office in Zugdidi. The protest later moved outside the office of a local group known as supporters of the UNM. GD activists ran in the building shattering glass doors. Clashes continued when the crowd returned to the UNM Zugdidi office.
The Prime Minister of Georgia condemned the incident, but offered an excuse by suggesting it was a result of a provocation.
"It was a provocation, intentionally arranged to cause tension in the country," Gharibashvili said. The Ministry of Internal Affairs started an investigation and as the PM said, all suspects will be made accountable.
MPs from the UNM have expressed their dissatisfaction over the incident and said the GD has problems with maintaining power, and the party is using force to stay in the government.
"They want to maintain power through violence and confrontation... Our response will be peaceful and calm – we will gather on the Rustaveli Avenue on March 21, and launch a political process," UNM leader MP Giorgi Gabashvili said on March 16.
Georgia cannot benefit from violence, U.S Ambassador Richard Norland said commenting on the Zugdidi incident.
"I am concerned about the current situation. Everyone should understand that violence is in no one's interest. Both parties should control their extremist elements. Also, remember that Georgia cannot benefit from such violence. We are observing the situation," Norland said, speaking to Rustavi 2 TV channel.
"At this stage of investigation it was established that a peaceful rally was held in front of the UNM's Zugdidi office, where public order was secured by police officers. After the rally was over, a physical conflict occurred between activists as a result of provocative actions near the office of the "Center for Freedom and Support of Democracy". As a result, five individuals from both sides and two police officers received injuries," the statement says.