Croatia approves EU-Georgia Association deal
Tuesday, March 17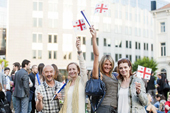 Croatia has completed the ratification process of the Georgia-European Union (EU) Association Agreement (AA) after the country's president signed the final document.
The Croatian parliament ratified the document on December 12, 2014 but it needed to be signed by the president before it could come into force. This proved challenging as the country held presidential elections, where Kolinda Grabar-Kitarovic was elected on February 19, 2015.
She could not sign the ratification document until now, as she started her duties on March 1.
The AA deal was signed by Georgia and the EU on June 27, 2014 in Brussels.
Georgia has already ratified the agreement. The ratification process is currently continuing in EU member states.
EU Association deals must be ratified by all 28 EU member countries before they can be fully implemented.
Countries that have ratified the Georgia-EU deal are: Poland, Ireland, Denmark, Sweden, Croatia, Romania, Hungary, Estonia, Slovakia, Malta, Latvia, Lithuania and Bulgaria.
European Parliament approved the EU-Georgia deal on December 18, 2014.
(Agenda.ge)