Georgian government to encourage local airlines
Tuesday, March 17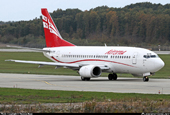 Georgia's government is working on certain benefits for local air carriers, the Economy Minister of Georgia Giorgi Kvirikashvili said.
He said, in particular that the matter rests in subsidizing charter flights.
Director General of Georgian Airways (Airzena) Iase Zautashvili said this is a very interesting initiative, and it can only be welcomed.
"This is very important, especially because the charters constitute a large part of our flights," he said. "Aside from that, the benefits are very important in the destinations that have tourism perspective, including the foreign resorts, visited by the Georgian citizens."
Zautashvili also said it would be good to resume flights to Iran, Iraq, and Kuwait, the flights to which were canceled after introduction of a visa regime, due to which Georgia lost significant tourist flow.
"Moreover, I am sure that sooner or later the government will change its attitude towards the Russian airlines, and the national aviation administration will acknowledge the inaccuracy of its decision to grant them [the Russian airlines] with virtually the right to unlimited number of flights," he added.
(Trend.az)