Kremlin is to annex de-facto South Ossetia while talks continue in Geneva
By Messenger Staff
Tuesday, March 17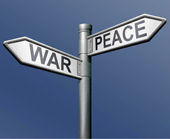 Russia's President Vladimir Putin and leader of breakaway South Ossetia Leonid Tibilov intend to sign a treaty on alliance and integration on March 18.
The Georgia's Foreign Ministry has condemned this news, saying that the treaty with Georgia's breakaway territory was a part of Russia's policy of "creeping annexation".
The ministry also slammed Russia for its intent to sign the treaty during the 31st round of the Geneva international discussions.
According to the Russian media, during the talks "heads of states" will discuss a range of bilateral issues and a signing ceremony will be held in Moscow.
There is speculation as well that the ceremony was planned for March 11, but was postponed for unknown reasons.
Georgia's main negotiator in the Geneva Talks Davit Dundua, stated that through this action, Russia has thumbed its nose at the Geneva format and its co-chairs.
"Such facts reveal that Russia puts its own interest above all international norms, and does not respect even the simplest international protocol," he said.
"The actions once again remind the international community the threats that Georgia is facing with regard to Russia," he added.
The agreement between Russia and Georgia's de-facto region sets the following priorities of the alliance and strategic partnership:
According to the draft treaty "separate units of the armed forces and security agencies of the South Ossetian Republic will become part of the armed forces and security agencies of the Russian Federation."
The draft also foresees the integration of the customs service of the breakaway region with the Russian Federation customs service.
The treaty also envisages setting up a Joint Information-Coordinating Center of law enforcement agencies for the purpose of coordinating the fight against organized crime and other grave crimes.
Despite Russia's actions, Georgia remains committed to the Geneva Talks format, as it remains the only international mechanism to deal with Russia and the occupied region leadership.