NATO training center to be opened in the fall
By Ana Robakidze
Wednesday, March 18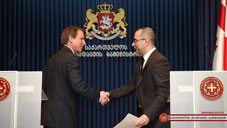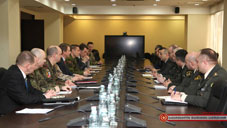 Georgia will open the NATO Training and Assessment Center by the end of the fall. The decision was announced at a joint press-conference after a meeting between with the head of the Georgia - NATO Liaison Office William Lahue, the NATO survey Team and Deputy Minister of Defense Levan Ghirsiashvili.
Girsiashvili also spoke about Moscow's allegations that a training center in Georgia might pose a threat to Russia.
"There are some opinions that the centre might pose a threat to someone. I want to stress that establishing the training centre, which was foreseen by the NATO-Georgia Substantial Package, cannot pose a threat to anyone. The centre will not be a military facility," the Deputy Minister said.
According to the Defense Ministry, NATO will participate in the process of establishing the centre. The parties still have to make a final decision regarding the location of the centre.
"It is very important to understand that we present this centre as an organization which aims to support Georgia. The organization will be located on a Georgian military base. Several officers of NATO will be present at the base, but they will work together with their Georgian colleagues because this is not a threat seen from the military angle… Norway heads the group. Its members include officers from Latvia, Lithuania, Denmark and Germany. The center is a basic part of the NATO-Georgia substantial package approved at the Wales summit. The centre will provide training and the exchange of experience. NATO experts will support Georgia's armed forces and provide advice regarding the centre's possible location," Lahue said.
A NATO survey team arrived in Georgia on March 17. The team arrived to conduct an initial assessment of Georgia's capabilities and exiting infrastructure suitable for the future training centre.
According to the defense ministry, one of the aims of the centre is to train and evaluate military representatives of the Georgian Armed Forces and NATO member and partner countries. "The centre will be designed to conduct a pre-deployment training and certification of units assigned to the NATO-led and other international operations. The centre will have capabilities to host multinational, joint and combined exercises and training in support of the Connected Forces Initiative (CFI)."