Ministerís Vision 2015-2016
Thursday, March 19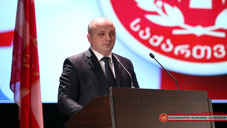 The Ministry of Defence of Georgia has a new guiding document. Minister of Defence of Georgia Mindia Janelidze presented the ďMinisterís Vision 2015-2016Ē to representatives of the Defence Ministry and General Staff of the GAF, Parliament of Georgia, state agencies, civil society, diplomatic corps and media. Defence Minister addressed the audience and introduced new directions of the document at the Educational Center of the Defence Ministry.
The ministerís vision provides the Georgian Armed Forces development priorities and is based on the lessons learned from the MoDís transformation experience, existing threats and needs analysis.
According to the document, the main directions for 2015-2016 are as follows: streamline defence management, improved defence capabilities and enhance NATO interoperability and international cooperation.
During these two years the special focus will be made on building the effective, mobile, modern and NATO interoperable Armed Forces. The document also sets guidance for improving defence capabilities that envisages optimization of development plans for artillery, anti-armor and effective air-defence capabilities.
Among the MoD priorities are: implementation of institutional reforms, social support of military servants and their family members, gender equality, developing cyber security, enhancing transparency and accountability.
A special emphasis will be placed on education, training and the professional development of military personnel.
One of the main priorities will be integration in European and Euro-Atlantic structures. Georgia will continue to fulfill international commitments supporting the global security.
It is underlined in the document that Georgia will implement the NATO-Georgia Substantial Package. MoD will consolidate current resources to enable the establishment of a Joint Training and Evaluation Center. The MoD will continue to actively fulfill its obligations under the EU Association Agreement and intensify cooperation with partner states through bilateral and multilateral frameworks.
The presentation was followed by the photo exhibition depicting the participation of the Georgian contingent in the EU-led peacekeeping mission in the Central African Republic.