UNM campaigns to impeach current government
By Messenger Staff
Tuesday, March 24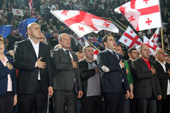 The UNM launched an impeachment campaign in parliament, declaring its distrust of the current Georgian government.
Even though the minority requires 60 votes to push forward the process, it only occupies 50 seats in parliament. It will need a plan to garner more support.
However, the UNM plan is likely to fail and the party will just use the situation to publicly speak about the "incompetence and incapability" of the current leadership.
UNM member Pavle Kublashvili stated after the March 21 street rally that the "collection of votes in parliament would be a simple task, as there are many MPs who look at the authorities in disbelief."
The UNM has its eyes set on Irakli Alasania's Free Democrats in this context. However, the Free Democrats released a statement in response, stating that the current government themselves should offer a solution over changing the government.
The majority says that the UNM's plan is misplaced, and it only aims at fuelling unrest in the country.
Majority MP Gia Volski stated that the UNM is not really interested in improving the country's economic outlook, while many people who participated in the rally, where legitimately concerned over the issue.
"The socioeconomic issues should be addressed more intensively. More communication among the main state structures should be put in place," Volksi said.
The majority believes that the UNM is stuck in the past, and will never manage to make a political resurgence.
Analyst Gia Khukhashvili believes that some political figures might cooperate with the UNM concerning. However, he excludes a long-term partnership with the UNM.
There is no real threat of the government's impeachment. However, the ongoing situation and criticism will be a test for the government's resistance.