President of the Norwegian Parliament visits Georgia
By Ana Robakidze
Wednesday, March 25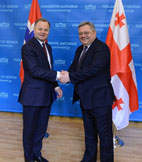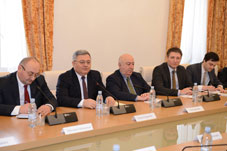 Georgia is on the way to becoming a democratic state, but there are many challenges to be overcome because of Russian aggression and international terrorism, Olemic Thommessen, President of the Norwegian Parliament (Storting) said in Tbilisi.
Speaking at the joint press conference with his Georgian colleague Davit Usupashvili, Thommessen praised Georgia for its achievements, and said Norway will never forget how Georgia has fought against Russian aggression.
"I visited a refugee camp and it made a great impression on me, and reminded me of the importance of remembering those people, and not to forget the aggression we see against Ukraine, actually it is the same to what was done to Georgia few years ago," Thommessen said. He believes that building a true democracy, and a welfare state is the only correct answer Georgia should give to Russia.
According to Usupashvili, his Norwegian colleague shared several tips on how a country can stay outside the European Union and still stand strong.
"Norway, like Georgia, is not an EU member country, but both countries have the same will – to have tight relations with the EU. Thommessen has revealed several secrets about how not to be EU member country and still get the benefits from it," Usupashvili said. He added that Norway fully supports Georgia with is aspiration to join NATO.
Thommessen will hold meetings with the President of Georgia Giorgi Margvelashvili, Prime Minister Irakli Gharibashvili and Foreign Minister Tamar Beruchashvili. The President of the Storting will discuss with the Georgian government possible investments in Georgia's energy sector. Before leaving Georgia at the end of the week, Thommessen will meet Patriach of Georgia Ilia II, and visit an IDP camp in Tserovani.