Georgian Dream coalition continues to splinter
By Messenger Staff
Tuesday, March 31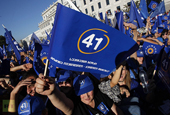 There is speculation that the Georgian Dream coalition might continue to splinter.
It still remains unclear whether the controversy surrounds the Industrial Party or the Republicans.
Prime Minister Irakli Gharibashvili commented on the statements made by Industrials Party leader Gogi Topadze with regard to the advantage of their Pro-Russian orientation.
Gharibashvili stressed that this claim did not reflect the coalition's foreign policy approach.
The PM emphasized that making public statements without any agreement with the coalition members was unacceptable, and warned the coalition members to refrain from making such evaluations.
There are also several individual MPs who have been criticized for their private assessments.
Coalition MP Omar Nishnianidze believes that the PM's warning might concern both individual MPs and political parties, which frequently speak out with critical attitudes without prior consultation.
Republican Levan Berdzenishvili, whose party also revealed their private assessment, believes that the PM's statements were about Gogi Topadze.
"The coalition has a common, firm attitude concerning the Georgia's Euro-Atlantic integration. We have better communication within the coalition now than we used to have. We are united around the idea leading Georgia to Western institutions," Berdzenishvili said.
However, member of the Industrial Party Zurab Tkemaladze, explained that the PM's statements are not pointed at his party. He also claims that the topic has not been discussed among the coalition parties.
"Our leader has just repeated a common truth – that Georgia's NATO integration was a long-term perspective. Such statements are being made by the leaders of developed countries and the NATO leadership," Tkemaladze said.
It is obvious that the coalition will try its utmost to maintain the coalition's unity. However, if it fails on this path, via defection of several parties, it will lead to problems.
In the case the Republicans leave the coalition, this will damage Georgia's Pro-Western image. However, if the Industrialists drop out, it will be described as the coalition's dissociation from pro-Russian forces.