Police officer attacked and killed in Tbilisi
By Ana Robakidze
Monday, April 6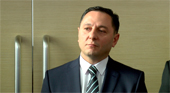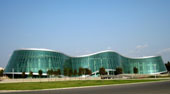 Beka Margishvili, who was wounded in the Varketili district of Tbilisi died at the hospital on April 5. His partner Valerian Grdzelishvili who was also wounded remains in critical condition. The police officers were performing their duty late in the evening on April 4, when they stopped a man in the street to search him. The man suddenly opened fire on police officers and fled the scene.
The Ministry of Internal Affairs immediately mobilized the SWAT team to search for the suspect. The operation took place nearby the Ministry of Internal Affairs, on Javakheti Street and near the auto market area (all these places are located in the Varketili district). The suspect could not be caught. However, SWAT found clothes and a car the suspect allegedly had left in the street when he was trying to flee the area.
President Giorgi Margvelashvili and Prime Minister Irakli Gharibashvili expressed their condolences to Marglishvili family.
"I want to express my sympathy over the tragic death of police officer Beka Margishvili. He was killed by a criminal while performing his duties. I share the grief of his family and beloved ones.
Another policeman Valerian Grdzelishvili is also in a grave condition. The murder of a policeman is an attack on the state, and the offender will be punished. This horrific crime will be solved and the perpetrator will be held responsible under the law," Gharibashvili said in his official statement.
President Margvelashvili said he expect the case to be investigated as soon as possible.
"We expect that a speedy investigation will be carried out. The perpetrator must be strictly punished under the law.
We pay respect to Beka Margishvili's memory and offer sympathy to his family and loved ones," Margvelashvili said in his letter.