ODIHR delegation visits Georgia
By Ana Robakidze
Tuesday, April 7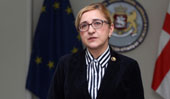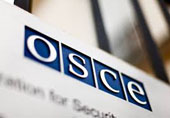 "I want to underline a very important step your government took, by inviting the ODHIR, to perform systematic monitoring trials in Georgia," Michael Georg Link, Director of the OSCE Office for Democratic Institutions and Human Rights (ODIHR) said at the press conference held after his meeting with Georgian Foreign Minister Tamar Beruchashvili. The ODIHR director said the Georgian government proved it prefers the truth to be revealed over rumors around the trials.
There have been discussions over these court hearings. And therefore it was very important to establish legal, professional and impartial findings on these court proceedings. Many of you had an opportunity to see how long, systematical and critical the report was," Link said, speaking about the report presented by the OSCE monitoring group several days ago. The ODHIR director said the report was very important, as it helps the Georgian government to bring out the imperfections in the judiciary system.
Foreign Minister Beruchashvili thanked the ODHIR for the cooperation, and said the organization's recommendations are very important and will be considered by the Georgian government.
"We thank the ODIHR for its close cooperation. In particular, for the activities carried out in 2013-2014 by the observation mission for the trials of the former senior officials of Georgia, and also the recommendations the OSCE office has developed in order to improve the judicial system in Georgia…It should be noted that this was the first precedent, in general, when the Government of Georgia had invited the ODIHR on its own initiative to ensure more transparency of trials." Bruchashvili said.
The ODIHR delegation arrived in Tbilisi on April 6th on a two-day official visit. Apart from the talks with state officials, the delegation visited villages along the administrative border between Georgia and the occupied region of South Ossetia, as well as the IDP settlement in Tsreovani.