Policeman's murder results in political outcry
By Messenger Staff
Tuesday, April 7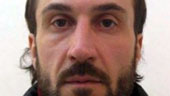 The Ministry of Internal Affairs (MIA) has released a photo of the alleged murderer of policeman Beka Margishvili, who was gunned down at Varketili Metro Station on April 4, while fulfilling his duty. His collogue was also shot and is being treated in the hospital.
The MIA published Shalva Abuladze's photo and warned the public to be cautious, as Abuladze is armed.
They also asked people to call the police hot line (2 405222) if they have any information on whereabouts of Abuladze, who is 38 year-old and has previous criminal record for killing and injuring police officers in Borjomi this year.
The shooting of the two policemen has caused much turmoil in Georgian politics.
The opposition accuses the government of releasing thousands of criminals in the 2013 large-scale amnesty that has resulted in the increase of such violent incidents.
Margishvili was on duty April 4, when he stopped a suspicious individual in order to check him. The latter shot him and his colleague and fled.
Leading officials have urgently responded to the incident.
"This horrible crime will soon be closed and the murderer will receive the severest punishment," Gharibashvili said.
Meanwhile, the opposition has accused the current government for the crime surge in the country.
"The current government has failed to protect policemen, and they must leave," UNM MP Sergo Ratiani said.
Leader of the Free Democrats Irakli Alasania stated that the government should accelerate measures to protect the policemen.
Responding to the accusations Interior Minister Vakhtang Gomelauri has appealed to all to refrain from offensive statements regarding the police, and ignore speculations concerning the weakness of police.
"The police adequately respond to all challenges, and it's unacceptable not to see their motivation," Gomelauri said.
The majority members offered their condolences and stated that policemen risk their life in every country.