Meeting between Defence Ministries of Georgia and Romania
Thursday, April 9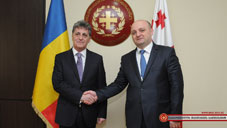 Minister of National Defence of Romania Mircea Dusa paid a two-day official visit to Georgia. Georgian Defence Minister Mindia Janelidze hosted his Romanian counterpart. An official welcome ceremony was held in the Ministry of Defence. First Deputy Defence Minister Gocha Ratiani, Chief of the General Staff of GAF Major-General Vakhtang Kapanadze, Commander of Special Operation Forces, LTC Dimitri Kiknadze, Air Force Commander, COL Davit Abramishvili and other officials will attend the meeting. After the official meeting, Defence Ministries of Georgia and Romania held meeting at the MoD.
At the beginning of the meeting, Mindia Janelidze expressed gratitude for supporting Georgia's territorial integrity and sovereignty, as well as Georgia's Euro-Atlantic aspiration. The sides overviewed regional security issues. Mindia Janelidze delivered information to his Romanian counterpart on the performed and scheduled reforms in the Georgian defence sphere. As Georgian Defence Minister outlined the top priority of 2015 is effective execution of the Substantial NATO-Georgia Package and thanked Romanian side for readiness to send a representative to NATO Core Team. Mindia Janelidze and Mircea Dusa discussed existing bilateral cooperation between Georgia and Romania in defence sphere and expressed readiness to deepen relation in the future. Mircea Dusa estimated the ongoing reforms in Georgian defence sphere and thanked Mindia Janelidze for Georgia's significant contribution in global security.
Following the meeting, Ministers made statements for the media representatives. Mindia Janelidze focused on the importance of bilateral cooperation with Romania in defence sphere: "We talked about cooperation in the direction of NATO and EU, as well as in bilateral format. Romania is one of the main supporters for Georgia on its way to Euro-Atlantic integration and for enhancement of the Georgian Armed Forces' abilities. Therefore, we grant so big importance to the relation with our Romanian counterpart. Under the bilateral cooperation we find out new directions, new aspects of relation. We have already set up defined directions and plans. Our future cooperation will be very fruitful".
"Romania is one of the strongest supporters for Georgia on its way to Euro-Atlantic aspiration. Embassy of Romania to Georgia has been granted a mandate of NATO contact point for the second time. Very soon NATO Core Team will start active work for the implementation of NATO-Georgia Substantial Package. Romania will send its representative on the position of Deputy NATO Core Team Leader. Georgia is one of the most important partners for NATO. NATO-Georgia commission is always held under the NATO Ministerial agenda in Brussels. On the level of Foreign or Defence Ministers meeting at NATO HQ, Romanian side always highlights how important is Georgia's integration to Euro-Atlantic structures; the same refers to Moldova and the Ukraine. At the meeting with Georgian Defence Minister we focused on the importance of Georgia's cooperation with EU and contribution in the international missions in Afghanistan and CAR. We also underlined the importance of the Riga Summit related to the Eastern Partnership. We also discussed bilateral cooperation between our countries in defence sphere. Georgian Armed Forces always take an active part in NATO military drills. We underlined important directions of bilateral cooperation between our Special Operation Forces and military intelligence. We discussed regional security issues, especially on the aspect of the Ukrainian crisis. We underlined the importance of providing security situation in the Black Sea region. In conclusion, I would like to emphasize that Georgia is on the right track. We have to estimate special efforts you have done in order to be able to implement NATO-Georgia Substantial Package. You can be assured that Romania will be strong supporter for Georgia for implementation the Substantial Package", stated Minister of National Defence of Romania Mircea Dusa with the media representatives.