Trilateral Defence Ministerial
Thursday, April 9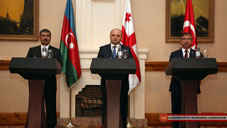 "Tbilisi Marriot" Hotel hosts Trilateral Defence Ministerial. Ministers of Defence of Georgia, Turkey and Azerbaijan launched the meeting with discussions around regional security environment. The sides underlined that the trilateral cooperation will be directed to strengthening security and stability in the region.
Within the Ministerial, Ministers Mindia Janelidze, Ismet Yilmaz, and Colonel-General Zakir Hasanov highlighted cooperation prospects in the field of defence. A special focus was placed on developing partnership in the military education area as well. Mr. Mindia Janelidze offered his counterpart to hold Summer Mountain Training Course at the Sachkhere Mountain Training School with participation of Georgian, Turkish and Azerbaijan military.
After the meeting, the partner countries` defence ministers made statements for media representatives.
Georgian Minister of Defence expressed gratitude to his counterparts for a fruitful cooperation and expressed hope that it would further develop in future. As Minister noted, this cooperation aims at promoting peace and stability in the region and is not directed against any country. "The schedule of our current cooperation is busy with interesting events. It covers military education, joint exercises and separate aspects of cooperation which is advancing dynamically. It is obvious that our cooperation is oriented at fostering peace and stability in the region and at the Armed Forces development. Regional security is a necessary precondition for the dynamic development of the neighboring countries and in order to achieve welfare of our population. I would like to thank my counterparts for an effective cooperation and I feel optimistic about its intensification," said Mr. Mindia Janelidze.
Minister of Defence of the Republic of Turkey Ismet Yilmaz highlighted significance of the trilateral cooperation in the field of defence: "the partnership existing between Georgia, Azerbaijan and Turkey will lead to an effective trilateral cooperation. Alongside defence and security issues we`ve referred to other critical areas. We`ve also evaluated international and regional security environment. For our countries` peaceful development, we need to strengthen the current cooperation through the joint efforts. The partner nations` ministers of defence agreed that the current format of trilateral meeting is a good mechanism to promote peace, stability and welfare throughout the South Caucasus region. We`ve decided to continue working on the Defence Memorandum. By signing the document, we will make a significant progress, since our countries aspire to achieve peace and stability by means of intensive cooperation. I believe that we`ll be able to interact in many areas. I want to thank Mr. Mindia Janelidze for hosting us in Georgia. The next meeting will be held in Turkey in autumn.
Colonel-General Zakir Hasanov thanked Georgian Minister of Defence for organizing such an interesting meeting. "We, ministers of defence of the three partner nations have touched upon very significant issues regarding Armed Forces and their development. Under the trilateral cooperation, we will conduct joint exercises, establish educational centers and exchange mutual experience", noted Minister of Defence of Azerbaijan.
Within the Ministerial, Mr. Mindia Janelidze held bilateral meetings with Turkish and Azerbaijan counterparts.