Rabati 2015 exercise conducted using JCATS
Thursday, April 9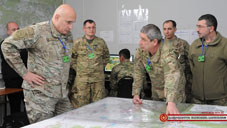 Command and Staff Exercise is going on using the Joint Conflict and Tactical Simulation Enhancements (JCATS) in the National Training Centre "Krtsanisi". Chief of the General Staff of the Georgina Armed Forces Major-General Vakhtang Kapanadze visited the Centre to take a look at the progress of training, the working of military staff and provided recommendations for the participants.
A week-long training is being conducted under the organizational support of the GS Trainings and Military Education Command and aims at streamlining operation of the military units subordinated to the Command.
The exercise launched last week and goes on in two stages. The initial phase covered planning works. The second part will go on with simulating the combat activities which is mainly made by the computer simulators.
With the use of JCATS, the military units of Trainings and Military Education Command are taking part in the Command and Staff Exercise. Towards the end, command and control systems, integration of operational functions and coordination with other military units will be evaluated.
The exercise is a preparatory phase for the upcoming training course "Didgori 2015".
First Deputy Chief of the GS of the GAF Brigadier General Vladimir Chachibaia, Trainings and Military Education Commander and leader of the training COL Levan Beraia and Head of the J3 Operational Planning Department Brigadier-General Giorgi Surmava attended the training process.