Competition in Sitting Volleyball
Thursday, April 9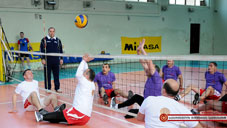 The sitting volleyball team of the Georgian Armed Forces participated in the tournament dedicated to World Sport Day. Wounded warriors injured in the combat operations for Georgia's territorial integrity and in SIAF mission involved in the sport event.
The sport competition was held under the initiative and support of Education, Sport and Youth Affairs Service of Tbilisi City Hall. Well-known people for the Georgian society also participated in the tournament. They played the sitting volleyball together with the wounded warriors.
The MoD sitting volleyball team returned to homeland with gold medals from the "Wounded Warriors Competition" held in the Marine Corps Base Camp Pendleton, the state of California, USA.
Defence Ministry of Georgia carries out supporting programs for wounded warriors for their rehabilitation and integration to the society permanently. Georgian wounded warriors take active part in sport competitions.