Defense Minister: Georgia is successfully approaching NATO
By Ana Robakidze
Thursday, April 9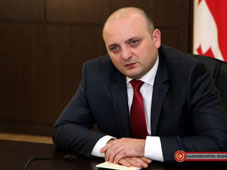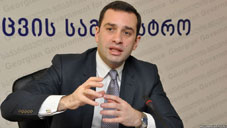 Georgia has been successfully approaching NATO and this process will continue, Defense Minister Mindia Janelidze said, speaking before the Parliamentary Defense and Security Committee on April 8.
"Our main goal is to support the development of Georgia's defenses, so it meets NATO standards," Janelidze said, adding that reforming the military is an irreversible process.
According to the minister, Georgia is about to begin implementing a substantial part of the package received at the latest NATO summit. The new level of cooperation between NATO and Georgia means the alliance will be widely present in the country. Janelidze said a special group will be created to monitor the implementation process of the substantial package.
The defense minister emphasized the importance of Georgia's contribution to global security, and said 900 Georgian soldiers are engaged in the Afghanistan peacekeeping mission, making the country the second largest per capita contributor to the mission.
"Our contribution to international security and stability after the completion of the ISAF mission continues, and 900 soldiers are engaged in the Resolute Support mission, which is underway in Afghanistan. I have personally witnessed our soldiers' high level of professionalism and commitment while carrying out their duties," the minister stated.
Janelidze also spoke about the controversial Paris deal, which Georgia was going to sign with France and purchase air-defense systems.
"We are in active consultations in terms of expanding our air defense capabilities, including the active phase of relations with France. Our foreign partners, who help us in the transformation of our defense system, are involved in expanding the air defense," Janelidze said.
The Paris deal was to be signed by the former Defense Minister Irakli Alasania. However, he was dismissed before the agreement could be completed with the French side.
The Defense and Security Committee session was attended by MPs, as well as by the head of the NATO Liaison Office William Lahue and Secretary of the State Security Council, Irina Imerlishvili.