Tsikhnvali closes administrative border to Georgians over Easter
By Ana Robakidze
Wednesday, April 15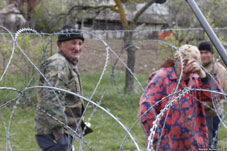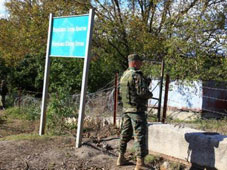 Citizens of Georgia living near the occupation line with Tskhinvali in South Ossetia, had no possibility of celebrating Easter with their loved ones on April 12, as the de-facto authorities of the Tskhinvali region decided to close the so-called border with Georgia for the holiday.
Georgians has no access to the cemeteries, as they were located beyond the barbed-wire fences installed by the Russians and Ossetians.
"Due to strengthened security measures during the celebration period of Easter, on April 11-12, citizens of Georgia will not be permitted to cross the border of South Ossetia," an RES release said.
In order to settle the issue in favor of locals prior to the holiday, the Georgian government set the issue at the 53rd meeting of the Incident Prevention and Response Mechanism (IPRM) held in Ergneti on March 25. But negotiations ended unsuccessfully.
The head of the Analytical Department of Georgia's Ministry of Internal Affairs Shalva Enukidze said then that despite the refusal of South Ossetian authorities to allow locals to visit cemeteries and other religious sites during Easter, the Georgian side would have continued negotiations with the hope of reaching a consensus. However, the following negotiations also failed.
This is not the first time South Ossetian authorities have rejected a proposal on behalf of the Georgian side before Easter. The same happed in previous years as well.