Danish, Swedish, Polish Foreign Ministers pay joint visit to Georgia
By Ana Robakidze
Wednesday, April 15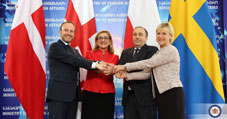 The Foreign Ministers of Denmark, Sweden and Poland visited Tbilisi ahead of the European Union Eastern Partnership Summit in Riga. According to the ministers, they arrived in Georgia to support the country in its efforts to receive the visa-free travel regime with the EU member states and resist Russian aggression.
"From the political point of view, we support visa liberalization for Georgia," Danish Foreign Minister Martin Lidegaard said at the joint press conference after the Foreign Ministers' meeting with their Georgian counterpart, Tamar Beruchashvili. The Danish minister said it is hard to promise anything to Georgia, but he and his colleagues are ready to do whatever it takes to assist the country in achieving the goal.
"We acknowledge all the steps you have taken on your journey…and it is also clear that there are still barriers on your journey – some of them are put there from the outside," the Danish foreign minister said, speaking about Georgia's possible future as an EU member state.
"We understand from what we hear that there are still some reforms necessary in the judiciary, and when it comes to migration, that's why we are signaling that there has to be realistic expectations, but we also appreciate the efforts that have been made," the Swedish Foreign Minister Margot Wallstrom said.
The foreign ministers once again emphasized that everything depends on Georgia, and how successfully it implements all the necessary reforms to meet EU standards.
Lidegaard also spoke about Russian threats, and said the EU has a very clear approach to the issue and will never take a step which will make the Russian occupation legitimate and acceptable.
After the meeting, the Georgian and Polish foreign ministers signed a bilateral memorandum on launching the "Tbilisi Conference" – a platform for providing Warsaw's further support to Georgia and sharing Poland's experience of European integration. The conference will be devoted to sharing the Polish experience in implementing the Association Agreement and achieving EU membership.