President Margvelashvili pays official visit to Latvia
By Ana Robakidze
Friday, April 17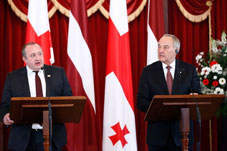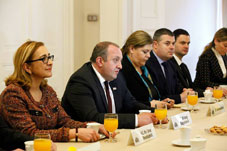 President of Georgia Giorgi Margvelashvili arrived in Riga for his official visit. After meeting his Latvian counterpart Andris Berzins, the two held a joint press conference.
According to the president, the parties discussed future trade and economic cooperation between Georgia and Latvia, as well as security issues in the region. The main topic of the meeting was the upcoming Eastern Partnership summit and the implementation of the Association Agreement Georgia signed with the EU.
"I briefed the Latvian president regarding the difficulties in our region. Also we discussed the threats created by the so called "agreements on integration and cooperation," Margvelashvili said at the press conference, referring to the agreements Moscow unlawfully signed with the Abkhazian and South Ossetian de-facto governments.
"Protecting the freedom of choice of Ukraine, Georgia and Moldova is an important part of European security," Margvelashvili said, speaking about the EU and upcoming Eastern Partnership summit which will take place in Riga.
Berzins spoke about the tight relations between Georgia and Latvia and said he supports visa liberalization for Georgian citizens.
Margvelashvili also held meetings with the Latvian Prime Minister Laimdota Straujuma and parliament speaker Inara Murniece on April 16.
The Georgian president, who was accompanied by the State Minister for European and Euro-Atlantic Integration, Davit Bakradze, Foreign Minister Tamar Beruchashvili, Agriculture Minister Otar Danelia and Minister of Culture Mikheil Giorgadze, will leave Riga on April 17.
Georgia places great value on Margvelashvili's visit to Latvia. According to the State Minister for European and Euro-Atlantic Integration Davit Bakradze, who also accompanied the president, such official visits are very important, especially ahead of the Eastern Partnership summit in May.