Gharibashvili presents projects for regional economic development
By Ana Robakidze
Monday, April 20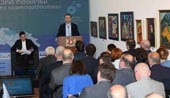 'Strong Region for Strong Georgia' is the title for the new project Prime Minister Irakli Gharibashvili presented on April 18. The project is part of a state effort to develop regional businesses by taking advantage of local resources.
The presentation was held in Culture House of Ambrolauri, Racha-Lechkhumi and Kvemo Svaneti region.
Agriculture, soft-manufacturing and tourism are the three major fields Gharibashvili states Racha-Lechkhumi and Kvemo Svaneti region have the potential to develop.
"The region has good potential to produce traditional Racha gammon, rare sorts of wine and develop berry-plantations," PM said. Gharibashvili also emphasized the importance of existing natural resources, like mineral waters and gold. The PM said the state should pay particular attention to developing tourism in the region, as both Racha-lehckumi and Svaneti's natural environments meet all the criteria of extreme and eco tourism.
According to Gharibashvili around 43 million GEL is the overall value of the planned investment projects in Racha-Lechkumi. Investments are to be made in hydropower, wine tourism, as well as hotel construction.
On the same day Gharibashvili visited Chrebalo (a village in Racha) to present another state initiated project on promoting micro and small enterprises.
"Our goal is to assist citizens to start their own businesses. It is a shame we have to import agricultural products," PM said to business representatives who had gathered in the wine factory.
Within the framework of the project around 3000 individuals will receive financial aid to start their own business.
According to the PM 800 million GEL has been invested in agriculture so far. Gharibashvili said Georgian farmers still face many problems but the government is working to find solutions. He also mentioned a new draft law to be discussed by the Georgian parliament. The "Law on Mountains" aims to protect Georgian highlands and help locals to settle in mountainous regions.