Gov't promotes local entrepreneurship in Georgia
Monday, April 20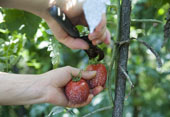 Georgia's Prime Minister Irakli Gharibashvili has met Georgian entrepreneurs and discussed new governmental projects to boost micro and small business entrepreneurship in Georgia's Racha region today.
"It's a shame that we import agricultural products," Gharibashvili said and added the government needed to strongly support local agriculture.
Gharibashvili said the state aimed at helping Georgian citizens to start a business.
"Georgian regions have unique resources for tourism, agriculture and local entrepreneurship," he claimed.
The PM presented a new project which will see about 3,000 people be funded to start a business, 4,700 people will be employed and 4,500 people will be taught how to effectively run a business. This initiative was part of the governmental project 'Produce in Georgia'.
Meanwhile in Racha, the PM summed up the previous projects implemented by his team. He said within the previous projects, 105 new enterprises were opened, a further 480 enterprises were renovated, thousands of beneficiaries benefited from the 800 million GEL investment in agriculture.
Gharibashvili also said in recent years that the Russian market was open to Georgian wine and Georgia increased its export to the European market by 65 percent. However, the Georgian PM said there were a lot of problems left unsolved and the government was doing its best to handle them all step by step.