Georgia adopts new energy policy
Monday, April 20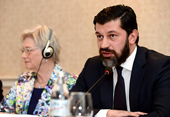 Georgia has adopted a new energy policy document thanks to lengthy cooperation between EU energy experts and its neighbouring countries.
International energy co-operation program INOGATE, involving the European Union (EU), the littoral states of the Black and Caspian Seas and their neighbouring countries, together with the International Energy Agency (IEA), jointly developed Georgia's new energy policy. The document was officially presented in Georgia today.
The document comprehensively detailed Georgia's energy strategy, achievements in this field and the country's future plans. It also included the Eastern European, Caucasus and Central Asian countries' energy policies.
IEA is a Paris-based autonomous inter-governmental organisation established in the framework of the Organisation for Economic Co-operation and Development in 1974 in the wake of the 1973 global oil crisis.
INOGATE and IEA have worked on the document with local experts for two years.
(Agenda.ge)