5-star Sheraton Hotel to open in Gudauri
Tuesday, April 21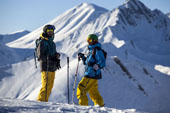 An internationally recognised hotel chain is opening up a new five-star hotel in one of Georgia's most attractive winter resorts.
Starwood Hotels and Resorts signed a Memorandum of Understanding with the Red-Co construction company to build a luxury Sheraton Hotel in Gudauri.
Details of the hotel's facilities have not yet been released, however officials said the new five-star hotel will open its doors for the 2016-2017 winter season. Construction work will start in May 2015.
Head of Georgia's National Tourism Administration, Giorgi Chogovadze, said bringing the iconic Sheraton brand to Gudauri was "a very important step forward for developing the winter resorts in Georgia".
Gudauri is located on the southern slopes of the Greater Caucasus mountain range in Georgia. The resort is situated in the Stepantsminda district, along the Georgian Military Highway near Cross Pass, at an elevation of 2,196m above sea level.
Gudauri is 120 km to the north of Georgia's capital Tbilisi and travelling from Tbilisi to Gudauri usually takes about two hours by car.
The winter resort offers top slopes for learner or expert skiers or snowboarders. The slopes of Gudauri are completely above the tree line, are favourable for free-riders and are generally considered to be avalanche-safe.
The ski season lasts from December to April.
According to www.booking.com, there are more than 50 hotels in Gudauri. The average price for one night per person starts from 50 GEL. This can increase depending on the facilities of the hotel, or visitors can pay less if they choose to stay in a guesthouse.
(Agenda.ge)