EU Riga summit expectations
By Messenger Staff
Tuesday, April 21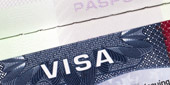 Georgia is waiting to be included in the visa-free regime with EU states through the organization's Riga Summit scheduled in May this year.
It is a question of time and circumstances whether Georgia benefits from the summit or not.
In the case of failure in this regard, the opposition will definitely accuse the current authorities of not stressing the importance of visa liberation enough.
Refusals from the EU also appear to hinder Georgian enthusiasm to the Euro-Atlantic path.
The Georgian government must do its utmost to gain political support in the course of this vital summit.
Six weeks prior to the summit, the foreign ministers of Denmark, Poland and Sweden visited Georgia, where they stated their hopes for Georgia's success at the summit.
However, they stressed that much would be dependent on the report made by the European Commission concerning Georgia's fulfillment of its visa liberation action plan obligations.
Former Deputy Foreign Minister, Davit Zalkaniani, states that the current government should take active steps before the summit in order to avoid negative consequences.
"I am waiting for positive outcomes from the event. The authorities should add to their credit and gain political support even before the occasion. The political support would play a crucial role for Georgia in this situation and for the challenges we are facing currently," Zalkaniani said.
If Georgia's progress is evaluated positively and the European Commotion issues its approval for visa liberation, members of the European Parliament and the European Union should confirm the consent for the solution to come into effect.
Georgia also wished for the note in the declaration for Georgia's, Moldova's and Ukraine's EU perspective, meaning that one day the countries would become the members of the EU. However, the accord in this regard is less likely at the present.
If we take the experience of other countries into account, we will see that the states of Central or Eastern Europe had required 5-10 years to near the membership of the EU. Successful completion of the Association Agreement agenda pushed them to the membership.
The EU leadership openly states that the expansion of the organization will not take place at least for five years, as the EU has many domestic problems to settle.
Analyst Kakha Gogolashvili believes that the Ukrainian conflict is the key issue for the EU currently.
"The tumult for Ukraine portrays the Eastern European countries as less secured. Thus, joining the states to the EU is less popular among the people of the EU states themselves," Gogolashvili says.