Greek court refuses to extradite former head of CSD to Georgia
By Ana Robakidze
Monday, April 27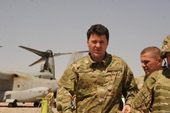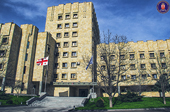 Greece refused to extradite Data Akhalaia to Georgian authorities. On April 24, the Supreme Court of Greece ruled out that the Georgian side should be refused in extradition of Akhalaia.
Former head of the the Constitutional Security Department (CSD) of the Georgian Ministry of Internal Affairs is accused by the chief Prosecutor's office in life-threatening violence, illegal imprisonment, abuse of authority and fraud.
The chief prosecutor's office issued official statement to clarify rumours about the Greek Supreme Court having Akhalaia acquitted.
"On April 24, 2015, the Court of Cassation of the Republic of Greece upheld the Decision of Patras Court of Appeal on the Inadmissibility of the Extradition of Davit Akhalaia to Georgia. The Court also ruled out the complaint filed by Davit Akhalaia's lawyer in relation to procedural issues to be inadmissible. At this stage, Prosecutor's Office of Georgia has no knowledge of the circumstances, which were taken into consideration by the Court of Cassation of the Republic of Greece in making the decision. Nevertheless, the Prosecutor's Office of Georgia would like to confirm that the question of Davit Akhalaia's guilt was not discussed at the court session…" The statement says. According to the agreement between Georgia and Greece, the Greek court is not authorized to acquit Akhalaia. To determine whether a person is guilty or not is a prerogative of the state requesting extradition.
Akhalaia had fled to Greece after he was sentenced to 3 years and 9 months imprisonment by the Georgian court in absentia in 2014. However, in Greece he was detained by the local authorities while he was trying to enter the country from Italy using a forged passport issued in the name of Otar Urushadze.