Moscow says Eastern Partnership is "anti-Russian" and it should be replied adequately
By Messenger Staff
Monday, April 27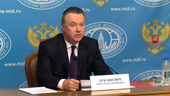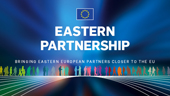 Russia keeps being very emotional about the NATO and European Union. Moscow believes every step its neighbours take towards Euro-Atlantic integration is a direct threat to Russia. With the Eastern Partnership summit scheduled to take place in May, Russia threatens to take contractions and "adequate measures" against the EU enlargement.
Russian Foreign Ministry spokesperson Alexander Lukashevich said the Eastern Partnership is an "anti-Russian" project.
"We will be following how the Riga summit proceeds, but it is already obvious that our reaction will be quite tough and principled…let's wait for its (summit) results. The essence of this 'partnership' definitely has an obviously expressed anti-Russian direction," Lukashevich said speaking at the press conference on April 24. He made it clear that Russia has a very negative stance towards the Eastern Partnership.
Representatives of the EU member states had an immediate negative reaction to the MFA spokesperson's statements.
"Moscow sees Riga Eastern partnership summit as directed against it; they are very much mistaken, it is time to stop this old-fashioned thinking," Latvian Foreign Minister, Edgars Rinkevics said on Twitter.
The Georgian PM's special envoy in relations with Russia, Zurab Abashidze, said it is common for Russia to take events they cannot participate in as a direct threat.
"When the Eastern Partnership was about to launch in 2009, Russia was invited in, but it refused the offer. The summit still has to take place and it is simply wrong (for Russia) to make preliminary conclusions," Abashidze said.
According to Georgian experts Lukashevich tries to intimidate Eastern Partnership states and hamper them from advancing towards the EU membership. The Georgian government claims it stands strong on the EU path and Russia cannot hamper Georgia from approaching the EU.
It is no secret Georgia expects a lot from the upcoming summit and hopes to be granted visa liberalization so its citizens could easily travel to EU member states. However, there are no guarantees for Georgia at this time.
While the Western countries still discuss relations with Russia, Eastern Partner states receive a lot of pressure from Moscow. It is quite clear that Georgia and other Eastern Partners desperately need an active support from the western states to resist Russian aggression. In the event Western states remain so indifferent, Russia may actually succeed in its policy against former Soviet states.