EU ambassador to Georgia claims progress for Georgia at Riga Summit
By Ana Robakidze
Tuesday, April 28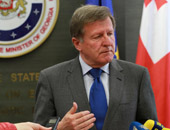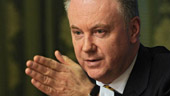 Head of the EU mission to Georgia Janos Herman says the upcoming Riga summit in May will play an important role in progress of the eastern partner states.
Herman, who visited Georgian parliament on April 27 to meet the members of the Euro-integration committee, also spoke about the official position of Moscow, voiced by Alexander Lukashevich two days ago. Spokesperson of the Ministry of Foreign Affairs of Russia said Eastern Partnership is a threat to his country, and Moscow plans to take appropriate steps in response.
The EU Ambassador to Georgia says he finds it difficult to identify the reasons behind Lukashevich's statements.
"I believe it is very important to stress that the Eastern Partnership is not targeted against others. Also, I would like to stress that one of the goals of the Eastern Partnership is to remove demarcation lines within Europe, as per the joint interest of the eastern partners as well as the EU member states." Herman said while speaking to media after his meeting with Georgian MPs. He also emphasized that participation in the Riga summit is the will of the Eastern partner states.
According to the EU representative, discussions about the summit agenda are still ongoing but there are number of important issues already identified. Herman said summit participants will first of all deal with the differentiation of the field to be developed in the eastern partner states, based on the states' major interests and potential. EU also plans to promote communication between nations and trade relations between them.
Speaking about the visa liberalization between Georgia and the EU states, Herman said the process is ongoing and the EU will soon issue its report evaluating Georgia's efforts to meet the necessary requirements.